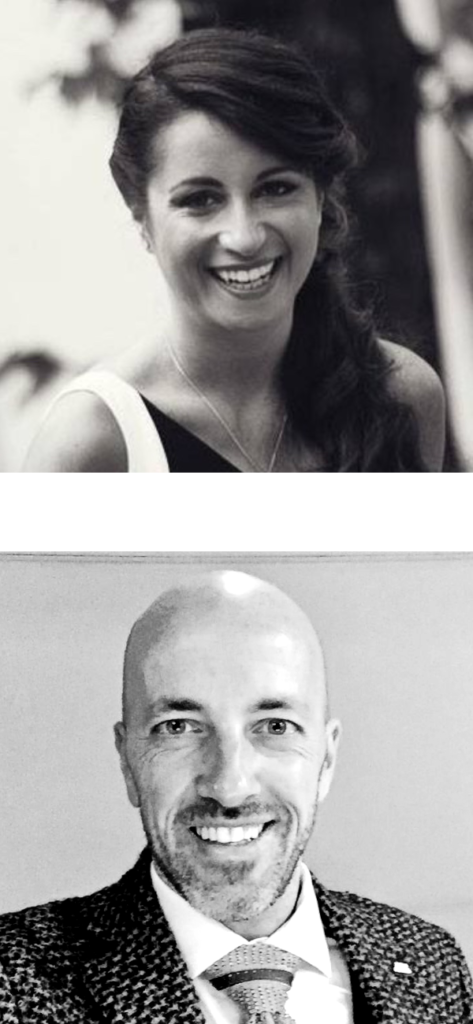 Veronica Scuotto is Associate Professor at the University Federico II in Naples, Nicola Farronato is responsible for the innovation team of the city of Turin. They met in 2009, in Naples, during a conference on entrepreneurship and innovation. They have lived ten years abroad between London, Dublin, Glasgow and Paris, collecting experiences rich in international contamination and building a network of contacts more and more glocal, as in global and local. In their "world tour" Veronica has always been dedicated to her university career and Nicola to innovation and startup projects. United from the beginning by the love for innovative enterprises in the professional field, since 2018 they are a couple in life too and got married in 2020, just as they were completing the book Love in the start-up era.
How important is love in creating companies and why?
A company is created and developed by people who are induced to act through a rose of emotions. In 2001 Robert Plutchick described love as a climax of emotions that starts with serenity and acceptance, including trust and joy and then reaches a state of ecstasy and admiration. It is in this climax that the entrepreneur thrives and transforms a mere idea into an innovation or even more into a solution to an existing problem. With this we don't want to say that business should no longer follow the laws of economics, finance and markets but to emphasize that love for an idea and its pursuit induces the creation of a company. Therefore, love is one of the main assets of a company to innovate. With this book we aim to explore the concept of the circularity of love with respect to entrepreneurship: on the one hand, doing business has important impacts in the personal sphere of entrepreneurs, in their families and in their emotional circle; on the other hand, starting a new entrepreneurial initiative as a couple (understood as husband-wife, boyfriends, brothers, etc. ...) can benefit from a distinctive propulsive thrust thanks to love that strengthens the synergy between couples of people who share life and work (sometimes also referred as "dual career couples").
Why did you turn to an English publishing house? What are your goals in terms of literature, innovation and career?
We approached a British publisher because we wanted to reach an international audience, similar to our professional network that we have built during our many experiences around the world. In addition, working with a publishing house based in Oxford and with years of excellent reputation in foreign publishing made our choice even more firm. Through our book Love in the start-up era we want to raise awareness on the emotional and cognitive sphere of the entrepreneur, who goes from being an individual to becoming a valuable part of a couple, whether working together with a partner or not. With this in mind, from the point of view of management literature, we introduce a new line of study that combines psychology, management and entrepreneurship. On the professional side, we want to show how business can grow through the harmonious synergy of the couple. This concept has inspired our innovative perspective based on exploring market opportunities by going beyond the classic economic and consumerist barriers. After all, Ford wouldn't have created the Ford T model if he had merely thought of satisfying the consumer!
What was it like writing the book four-handed? Any pros and cons?
We would define it with just a word: challenging. At the very beginning, it was difficult to combine academic meticulousness with entrepreneurial creativity. We won't hide the fact that there were many conceptual conflicts, some misunderstandings and disagreements, which we then managed to make them converge and synthesize in a shared vision. Team diversity, in any project, is difficult to manage but there is a lot of potential value to harvest from it. From the cognitive conflict, from the different points of view on the same thing, from the divergences, from the barriers between different personalities and from the love that unites them can arise less conformist and more innovative thoughts.
Couples in life and couples in work: why does it make sense and what factors are important to emphasize?
Let's start from the assumption that love can convert the strength of the single "you" and "I" into a synergy of forces that is well summarized in the word "we". So why not use this duplicated strength in the professional sphere as much as in the private one? A couple has the ability to complement the shortcomings of each other. We talk a lot about the concept of multi-disciplinarity but also about multi-skills and expertise that optimize and make an entrepreneurial journey more efficient. The couple embodies this multiplicity of aspects and, combined with the love for the business that they are creating, the couple is able to overcome the barriers of distance and lack of resources. In our daily life and international experience, we have had the good fortune to meet and get to know some entrepreneurial couples who have become positive role models for us to be inspired and learn from, each with their own peculiarities and uniqueness. We thought of this project as the beginning of a collection and documentation of some of these stories, with the aim of being able to stimulate and perhaps inspire readers who are looking for answers and clues on how to combine personal and professional life without having to give up an entrepreneurial dream.
Looking to the future: love as a driver. How do you think values in the world of work need to change?
We live in a society considered the emblem of selfish materialism, where the economic man isolates himself to achieve his own goals. And yet, on the sidelines, a social altruism seems to be emerging that suggests a change and an approach to the concept of doing business "together". As well outlined in The Theory of Moral Sentiments, Adam Smith reminds us that people are driven to act not only by needs but also by duties. These duties can be translated, today, into social responsibility and love towards others. We like to think that business can have the human being and his emotions at the center, just as the heart is the center of everything in human architecture. We want to bring our contribution. Above all we are moved by the desire to inspire young readers with positive models of businesses founded by entrepreneurial couples, and perhaps discover that affective relationships and innovative entrepreneurship have a common thread, and that they can support each other. Our world have to regain a more human and effective rhythm for all the people to be happy and at ease. Today we are talking about Society 5.0 where the emphasis is on the human figure instead of the machine: the human being is no longer understood as a resource for companies but more personalization is given to the individual as the engine of every action. So Love becomes an asset for the company because it spreads the desire for creativity and determination that generate innovations and bring out the best practices in line with the dynamism of the market and society itself.
Let's talk specifically about the seven cases you've chosen and, among them, the Turin cases.
The stories of some of the entrepreneurial couples and startups that have most inspired us in this project are divided between international and Italian cases, with a focus on Turin. We started from Ireland, from the experience of Nicola and B-sm@rk, a startup founded in 2011 that worked on the theme of emotions and artificial intelligence to personalize the experience for digital users. From Dublin we moved to Detroit thanks to a beautiful story of a Sicilian family that, after living in Turin for a decade, moved to Michigan and created a company specialized in innovations in the field of air mobility, Skypersonic. It is incredible to narrate how, during the writing of the book, Skypersonic was acquired and listed on the most important technology stock exchange in the world, the NASDAQ in New York. We couldn't leave out Paris, with the passionate story of Team Creatif and Sylvia Vitale Rotta, who also has Italian origins and a very rich experience between London and Paris. Sylvia's story inspired us to create an acronym, LOWE (Leader, owner, wife, entrepreneur) to highlight the charisma of a woman who was able to transform a dream into one of the most influential design companies in Europe. In Turin we found some very special stories: Immodrone and Drone Guardy, a couple of very young siblings who have created two successful startups in the world of drones, one in Turin and one in America. Simone and Alessia Russo are today counted among the most influential young innovators in Italy (Forbes under 30). ElephantVeg is an exciting story that saw a couple leave their jobs and invent a startup and a community based on plant-based food and healthy lifestyle. Finally, MammeinSol, an invention of Francesca, mom and music therapist, who, supported by her husband, has created a reference organization for moms and babies, in Turin and nationwide.
You who have traveled the world together, how do you see the future of this city?
Turin has distinguished itself in recent years for its great work as a laboratory city that experiments, attracts innovators and startups and is a candidate to be a home for emerging technologies. A city needs an ecosystem around it made of companies, people and local institutions that together address the major issues of technological and social progress. Turin is today one of the most proactive cities in Europe to study and develop innovative services for citizens and businesses.
What are the areas where it is important for startups to focus their efforts?
Startup numbers around the world continue to grow and confirm the maturity of the startup era. According to the latest report published at the end of 2020 by Startup Genome (the most important organization in the world for the monitoring and development of innovation ecosystems), it shows that if the global startup ecosystem were a state, with about 3 trillion dollars of business volume it could participate in the G7. The top ten countries in the world in terms of number of startups count almost 100,000 startups and in Italy more than 12,000 innovative startups enrolled and registered representing 3.3% of all newly formed corporations (source: Ministry of Economic Development, 2020). The startup model applies to everything, to every sector we can list and imagine. And since they are the seeds of our future life, we need to water them with energy, content, support and love.