Call for IP
September 13, 2021

-

December 17, 2021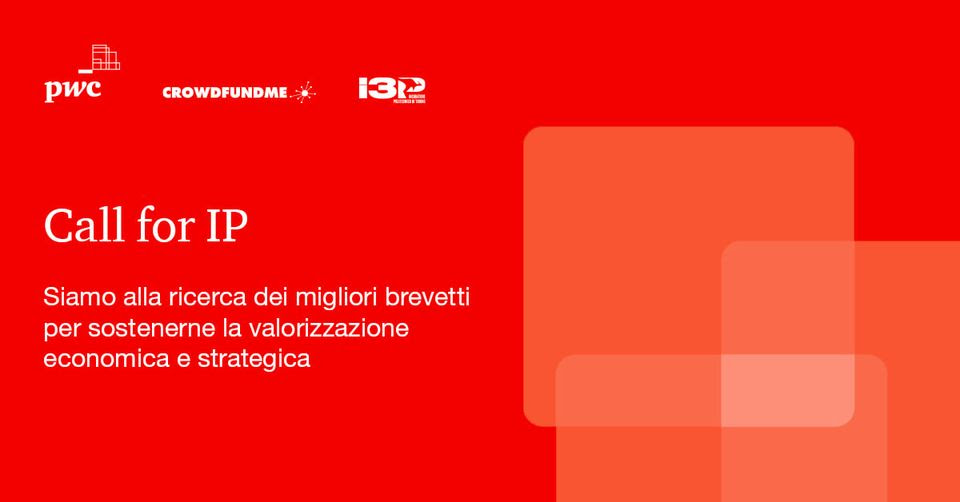 The PwC Italy together with CrowdFundMe, an Italian equity crowdinvesting platform, and I3P, the Incubator of the Politecnico di Torino, are launching the first edition of the Call for IP, the first call designed to enhance Italian intellectual property and patented technical innovations.
The call represents a boost for local innovations and allows the start of a contamination process between inventions from the academic, business and financial worlds.
The Call for IP programme will give selected startups and SMEs the opportunity to undertake a path of intellectual property valorization through the launch of fundraising initiatives on CrowdFundMe and access to the consulting services of PwC and I3P. Proposed projects will be assessed in terms of technical feasibility, team composition, the current state of the market and the competitive scenario, the composition of the business plan, and equity story.
The call is addressed to legal entities that are owners or licensees of a patent for industrial invention or utility model or that have filed a patent application with a non-negative research report:
academic university spin-offs
micro, small and medium-sized enterprises
innovative SMEs
startups
These sectors of participation involved are: AgriTech, FoodTech, Utilities, Energy, GreenTech, Automotive and Transportation, Mobility, Life Sciences, Retail and Consumer, Construction, Industry 4.0, Smart Material, Nanotechnology, Information Technology, Telecommunications.